SOL Children Theatre Troupe Inc.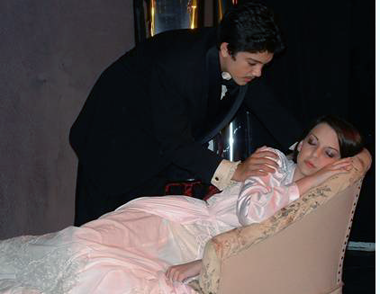 For more information or reservations please call: 561.447.8829

2009 – 10 SEASON

Hercules … October 9 – 25
The Elves and the Shoemaker … Dec. 26 – Jan. 10
Oliver Twist (musical) … March 12 – 28
The Mystery Plays … May 7 – 23
The Princess and the Pea (musical) … Aug. 13 – 29

SPECIAL EVENTS' SERIES
IMPROV NITES
Sept. 25, Jan. 22 & April 16

COMMEDIA DEL'ARTE
Sept. 11 & 12 … Nov. 13, 14 & 15 … April 23, 24 & 25 … July 16, 17 & 18

YOUNG ADULTS' THEATRE SERIES
Dec. 4, 5 & 6 … April 17 & 18 … July 23, 24 & 25

YOUNG ARTISTS' CONCERTS
Feb. 19 & 20 … June 4 & 5
Still to be added: Voci, the Concert … dates pending

TALENT SHOW SOCIALS
Aug. 28 & Jan. 29

SUMMER CAMP ORIENTATION SOCIALS
April 9 & May 28

Click Here To Register For Classes!

CALENDAR VIEW
AUGUST 09
August 28 - Talent Show Social

SEPTEMBER 09 September 11 & 12- Commedia del'Arte
September 25- Improv Nite

OCTOBER 09
October 9 – 25- Hercules … main stage

NOVEMBER 09
November 13, 14 & 15- Commedia del'Arte

DECEMBER 09
December 4, 5 & 6- Young Adults' Theatre
December 26 – Jan. 10- The Elves and the Shoemaker

JANUARY 2010
January 22- Improv Nite
January 29- Talent Show Social

FEBRUARY 2010
February 19 & 20 - Young Artists' Concert

MARCH 2010
March 12 – 28- Oliver Twist … main stage musical

APRIL 2010
April 9 Orientation Social
April 16 Improv Nite
April 17 & 18 Young Adults' Theatre
April 23, 24 & 25 Commedia del'Arte

MAY 2010
May 7 – 23 The Mystery Plays … main stage
May 28 Orientation Social

JUNE 2010
June 4 & 5 Young Artists' Concert

JULY 2010
July 16, 17 & 18 Commedia del'Arte
July 23, 24 & 25 Young Adults' Theatre

AUGUST 2010
August 13 – 29 The Princess and the Pea … main stage musical

2010 SUMMER THEATRE FESTIVAL
Summer Camp TBD
Commedia
Young Adults' Theatre Series
Summer Camp TBD
The Princess and the Pea


FALL SESSION: August 25 – December 10, 2009
REGISTRATION: Tuesdays, Wednesdays and Thursdays
3:30 – 7:30 at Sol Children Theatre

OPEN HOUSE: Friday August 28 … 6:00 – 8:00 TALENT SHOW

REGISTRATION CLOSES: October 9, 2009
NO CLASSES: October 6 – 8; November 24 – 26
YOUNG ACTORS PERFORMANCE SCHEDULE:
Tech Rehearsal: Tuesday Dec. 15 … 5:30 – 7:30
Dress Rehearsal: Wednesday Dec. 16 … 5:30 – 7:30
THREE PERFORMANCES: Thursday Dec. 17 & Friday Dec. 18
… both nights 5:30 call, 7:00 performance
Saturday Dec. 19 … 12:30 call, 2:00 performance

14-week session- 45 minute classes: $189
1 hour classes: $252
1 ½ hour classes: $378

TUESDAYS
3:15 – 4:00 Creative Drama and Movement … 3 – 4 year olds- Carol Schomburg
4:00 – 5:00 Musical Theatre … 6 – 7 year olds - Carol Schomburg
5:30 – 7:00 Acting and Musical Theatre … 10 – 12 year olds- Lauren Butler

WEDNESDAYS
3:45 – 4:30 Creative Drama and Movement … 3 – 4 year olds- Lauren Butler
4:30 – 5:30 Musical Theatre … 5 – 6 year olds- Lauren Butler
5:30 – 7:00 Acting and Musical Theatre … 12+- Lauren Butler

THURSDAYS
3:30 – 4:30 Creative Drama and Movement … 5 – 6 year olds- Tori Brown
4:30 – 5:30 Acting Essentials … 8 – 10 year olds- Tori Brown
5:30 – 7:00 Acting and Musical Theatre … 11+ year olds- Lauren Butler

$50 registration fee … once per lifetime per family; 10% family discount on tuition OR if enrolled in more than one weekly class; 10% troupe discount
LATE ENROLLMENT WILL BE PRORATED ($18/hour)
all tuition is to be paid at beginning of session unless other arrangements have been made by coordination with theatre office only
CLASS SIZE: minimum 4, maximum 10 students per class
Each of our teachers has college and/or professional experience
all classes subject to change depending upon enrollment & teachers' ongoing availability; all classes to culminate in their own show:
YOUNG ARTISTS TAKE THE STAGE
all students receive special consideration (over the public) when auditioning for main stage productions
Click Here To Register For Classes!
COURSE DESCRIPTIONS
Creative Drama & Movement
This class encourages creativity and expressive freedom in a controlled environment for the youngest actor. Develops imagination and teamwork skills through basic movement, fun singing, improv games and fairy tales. Even our youngest actors get to show off their new skills at the final showcase!
Musical Theatre
This class involves games and exercises designed to enhance creativity, spatial awareness, imagination and motor skills. Includes basic acting, singing & stage movement exercises. Final showcase students will perform their budding "triple threat" skills by performing a scene and number from a Broadway musical!
Acting Essentials
The student will explore the craft of acting in an approach that involves exercises, scene work and theatre games designed to develop performance skills and technique. The focus will be on theater basics: opening the imagination, stirring creativity through imagery, pantomime, basic improvisation, exploration of stage emotions, and basic stage theory and terminology. A child should come out of this class more relaxed and comfortable performing a monologue and scenes in front of an audience.
Acting & Musical Theatre
Theory and practice in the art of creating believable characters for stage, including developing technique in observation, sensory awareness, applied imagination, ensemble work, theatre exercises, and scene work. Second half of the class applies what the student learns about acting and add singing and dancing! Become a Triple Threat who can sing, dance and act … Instruction in scene work, theatre songs and theatre dance. Final showcase students will perform a scene and number from a Broadway musical.
Tori Brown
has been active on and off stage with Sol Children since 2002, holding staff positions since 2007. She is a Theatre & Business double major at Broward College and one day hopes to be found touring shows throughout the country. Tori has been performing amongst professionals at the Broward Center of the Performing Arts since 1999, often in conjunction with Dillard Center for the Arts. As well as entertaining on stage, Tori has been known to hold her own backstage as both a lighting designer and a stage manager. Her recent credits include Pippin (Berthe), A Carnivale Christmas (Lola the Fat Lady), Sleeping Beauty (Maleficent), The Odd Couple Female Version (Vera), and Scrooge! (Mrs. Fezziwig).
Lauren Butler
hails from Newport, NY. She is currently a Junior pursuing her B.A. in Theatre and B.S. in Psychology at NOVA Southeastern University in Ft. Lauderdale, FL. Lauren's acting credits include, A Midsummer Nights Dream (Helena), There's No Place Like Home (Dorothy), Rodger and Hammerstein's Cinderella (Cinderella), The Women of Lockerbie (Woman 1), The Coming World (Dora), Love Comics (Andrea), The Proposal (Natalya Stepanovna), Baby: The Musical (Arlene McNally), and The Dining Room (Principle). She has held professional intern positions at The Promethean Theatre and MadCat Theatre Company. Lauren has also had the opportunity to direct shows such as; Mpls., St. Paul and Slop-Culture. She also wrote and directed several children's shows at The Art and Culture Center of Hollywood. Lauren loves teaching and sharing her love of the theatre and music with everyone, especially children.
Carol Schomburg
came to Boca Raton, Fl with many different homes and experiences under her belt that most recently include Elizabeth City, NC and Kodiak, Alaska. Currently she is a sophomore at Florida Atlantic University Pursuing a double major in Theatre and Business. Carol has worked in many different types of theatre settings including High School up to Professional. Latest credits include Alexander and the Terrible, Horrible, No Good, Very Bad Day (Mother), Don't Hug Me (Bernice), Ghost Walk (Beulah Adams), Heaven Can Wait (Mr(s). Jordan), and Oliver! (Nancy).

Friday August 7 thru Sunday August 23
Beauty and the Beast
At - Sol Children Theatre
Fridays at 7:00pm, Saturdays at 2:00pm & 7:00pm, Sundays at 2:00pm
DETAILS:
BRINGING SUMMER THEATRE FESTIVAL 09 to a close is the tale as old as time keeping theatre cool during the hot summer! While closely following the traditional beloved fable, this imaginative adaptation features Blotti, the father, who wanders into the castle of the Beast; Beauty, his daughter, whose innocence and goodness sees through the ugliness of the Beast to find the handsome young prince. Add two haughty sisters and Manello the valiant lover for a summer love story that moves, excites, scares and touches!
FRIDAY AUGUST 7 … 2:00 SHOW ... ADDED BY POPULAR REQUEST! Regular ticket prices … group rates available!

FRIDAY AUGUST 7 … 7:00 SHOW … OPENING NIGHT PRIVATE PREMIERE …
refreshments served! tickets $15/$10 juniors ... seating by reservation only! All other shows tickets are $11/$7 for juniors 11 or younger. WHO: Sol Children Theatre Troupe

WHAT:AUDITIONS for HERCULES

WHEN: Saturday, August 1 … 2:00 – 4:00pm
Sunday, August 2 … 10:00am – 12:00noon

WHERE: Sol Children Theatre is located at 3333 N. Federal Highway, Boca Raton 33431

DETAILS:
auditions are by appointment only
call 561-447-8829 for an audition appointment
Actors 10 years of age and up … cast of 20… all parts available

LOOKING FOR FRESH FACES &
NEW ACTORS TO JOIN THE TROUPE!

CLOSED AUDITION: 1 minute prepared comedic monologue … preferably from a classic
if interested in being considered for the Chorus come prepared with 16 bars of a musical theatre selection performed a cappella (no backing track to be used)
If new to Sol Children theatre please bring a brief bio and a headshot (can be a photo, does not need to be professionally done)
Rehearsals for Hercules begin in August for October performances.



Friday September 5th
FRIDAY EVENING SOCIAL! … TALENT NITE!
At - Sol Children Theatre
6:00 - 8:00pm
DETAILS:
FREE ADMISSION! THEATRE GAMES! SOCIAL TIME! REFRESHMENTS!

TALENT SHOW! What's your talent? Musical theatre? Improv? Monologue? Vocal solo? Well here's your chance to show off … Top Three Winners will be awarded fun prizes … and an automatic FREE AUDITION PASS! Call for details!

PAST EVENTS AT
'SOL CHILDREN THEATRE TROUPE'
PRESS RELEASE
2008 - 09 SEASON
Cinderella:
A Dream Come True
by Kristi Cunningham
March 13 – 29
Phantom of the Opera
songs & scenes
May 1 – 17
A Midsummer Night's Dream
"the course of true love never did run smooth"
July 10 - 26
Beauty and the Beast
August 7 - 23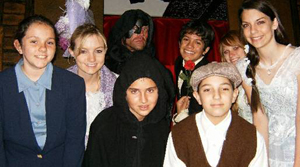 Andrea Feniger, Kendra Fulmer, Noelle Hoffman, Gisbert Heuer, Josh Lerner, Giovanni Bagioli, Erin Hancock & Madison Spear (as Christine)
An exciting musical based upon Gaston Leroux's classic story of a brilliant young singer and her "Opera Ghost." The Sol Children adaptation weaves a musical tapestry of love, mystery and intrigue while bringing to life the famously heart-wrenching story.
FRIDAY MAY 1 … 7:00 SHOW … OPENING NIGHT PRIVATE PREMIERE … refreshments served! tickets $15/$10 juniors ... seating by reservation only! All other shows tickets are $11/$7 for juniors 11 or younger.
Due to limited seating early reservations are highly recommended. For more information or to make reservations call 561-447-8829, email solchildtroupe@aol.com … check out SOLChildrenTheatreTroupe.org


WHERE:
Sol Children Theatre
3333 N. Federal Highway
Boca Raton, FL
Cinderella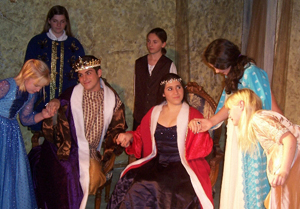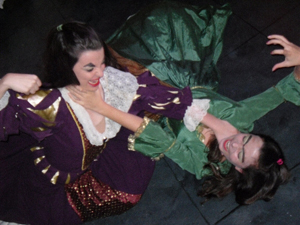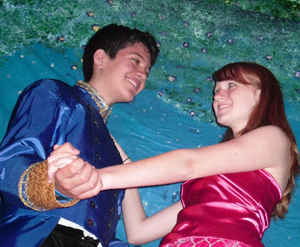 Evening in the Garden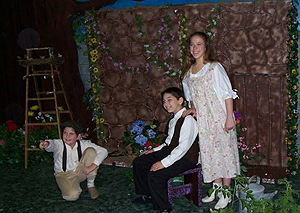 Colin in the Garden
Thomas Porat as Dickon Sowerby
Josh Lerner as Colin Craven
Sara Grant as Mary Lennox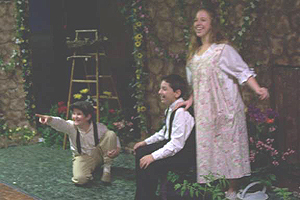 Evening in the Garden
Thomas Porat as Dickon Sowerby
Josh Lerner as Colin Craven
Sara Grant as Mary Lennox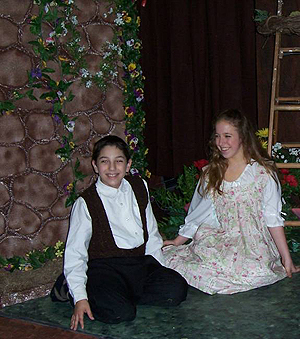 Cousins!
Josh Lerner as Colin Craven & Sara Grant as Mary Lennox
Dracula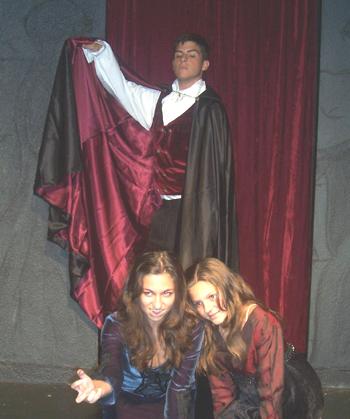 Kyle Garcia as Dracula;
Taylor Fox & Ashleigh Deneve as Vampiresses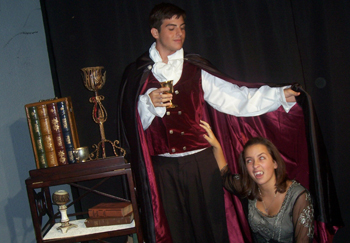 Kyle Garcia as Dracula;
Christy Sperrazzo as a Vampiress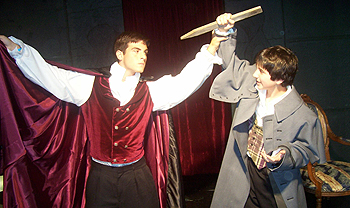 Kyle Garcia as Dracula; Robert Fritz as Van Helsing

SOL CHILDREN THEATRE TROUPE is a not-for-profit children's theater featuring children's classics.
Plus a full schedule of acting and musical theatre classes for all ages; Performing arts, school auditions, coaching and private voice lessons.

TESTIMONIALS
PARENTS
"A Standing Ovation For Sol Children's Theatre"! Having known this theatre since its inception, I am proud to say that Sol Children's Theatre is the best thing to have happened to my child, and to me. It embodies and practices every ideal a theatre of any sort should live up to: it is innovative, creative, and expressive.
One of the most amazing things about this theatre is its absolute refusal to be a stereotype of a children's theatre, to be slotted into a comfortable definition. With every production, this theatre reinvents itself. While the plays are primarily by and for children, it strives to make each play appeal to every person in the audience, irrespective of age or any other designation.
Another endearing quality of SCTT is the pride it takes in everything they present. Each play reflects the care of detail and disciplined hard work that has gone into it on part of everyone who is intimately and tangentially involved in the making. Each play, even each performance, is like none other, inimitable, a piece of art in its own right. I try my best to watch more than one performance of every play they produce.
By far the most admirable feature about this theatre is its range. For instance, it can, very effectively, tap into the endearing, innocent sweetness of "Sleeping Beauty," and in the very next play, boldly push the boundaries of the classic gothic horror of "Dracula" with equal grace. I see that the theatre plans to tackle Shakespeare in the near future, and have no doubts that they shall do fair justice to the complexity and richness that the Bard's work demands of its practioners, with aplomb. Words fail me. There are not enough commendations I can express for this extraordinary theatre I am fortunate to know. Being associated with this unafraid enterprise that expresses the human experience, has made me proud of being human. I invite all who know it to join me in applause for the Sol Children's Theatre as it continues to truly execute its mission with every breath it takes, both on stage and off stage."
--Shefali Choksi

"My daughter has performed with a few of the other local theaters over the past couple of years. However, it wasn't till she found Sol that she blossomed into a true young actor. At Sol, she has taken acting classes, private voice lessons, as well as performed in a handful of their shows. Sol has everything a young actor needs to learn the profession. It is truly one-stop shopping. As a parent, the moment I walked into the theatre and met Rosalie, I was hooked. She cares about these kids, wants to see them evolve and succeed into not only fine actors, but more importantly, wonderful human beings. She takes no bologna from them and in return she has a theatre troupe of the most outstanding and well behaved children I have ever met! There are no stars here, only good friends."
-- Trish Sylvester

"Sol Children is a great place for my son. He has found in this theater a wonderful group of children and teachers. It is a safe, fun and full of energy place. My son can't wait to go to rehearsals or troupe meetings. He calls Sol Children Theater "his second home". I'm so glad we found this outstanding children's theater!
-- Maria Laing

"Our daughter has been performing in local theater and in professional productions for 6 years. She has also been with Sol since it opened in Boca Raton. We have found Sol Children's Theatre Troupe not only provides her a performance venue but the teachers and directors there push her to improve her skills. In particular, the staff stresses vocal training for musical theater, classical singing and standards with great results. It is also a happy, safe place for children."
-- Jim Novakoff

"We have been apart of Sol Children's Theatre since their beginning. My daughter Lexy Gaeta has done many shows at Sol. We are part of the Sol family. It is a safe place for children, it is their safe place and they'll love being part of it. From Rosalie to her staff and the kid's involved it is a top notch theatre .Their productions are wonderful and the children have great talent. I can promise you, you won't be sorry, you'll only wish you had done it earlier!"
-- Reesa Gaeta

"Our daughter Tanya is passionate about her involvement in Sol Children's Theatre. She loves the classes, plays, and participation in troupe activities ranging from crew to cast member. It is her favoritie extracurricular commitment."
-- Carol Sashi

SCTT has truly become my home away from home. The directors and employees are dedicated and continue to go up and beyond the call of duty, and the children and teenagers in the shows are not only unbelievable actors but now unbelievable friends. I am eternally grateful for everyone involved. I have learned so much, and yet have so much more to learn, and I can't wait.
-- Taylor Fox
"Sol Children Theatre isn't just a theatre where a bunch of kids go to to read lines, we truly learn the art of not "acting" but "being". We step into our character's shoes and put on a remarkable performance. Sol Children Theatre is a place where we can be ourselves; here, we aren't afraid to take risks and try new things. Being part of this amazing place has not only taught me about acting, but about myself. We learn so much and we have a BLAST doing it! I'm so glad to be a part of Sol Children Theatre Troope."
-- Katie

AUDIENCE … DRACULA
"I just wanted to let you know how much I enjoyed Dracula last night. I thought the kids did an absolutely wonderful job. What a talented bunch of kids! I loved the humor in it too. The acting was just great, and their energy was contagious. I could tell that they really enjoy acting. Again thanks. It was great!"

"I can't say it enough, but this is THE BEST CHILDREN'S SHOW I HAVE EVER SEEN!! Everything is so wonderfully perfect from the costumes to the lighting to the music. And the actors...from Dracula to the servant girl and everyone in between...each and everyone of them is a shining star. Kudos to your cast and crew. I get chills just thinking about it. Congratulations on a job superbly done and I will most definatley spread the word!!"

AUDIENCE … CHRISTMAS CAROL
"Congratulations to everyone who helped put together the wonderful production of Christmas Carol last night! I was really blown away by how this cast came together and thoroughly entertained us! To say I was impressed by this group of actors is an understatement!!!!"
"I've only been to Dracula previously. Christmas Carol, absolutely outstanding! The young cast was amazing! I can't believe they can carry such talent! The lighting and effects just keep getting better and better"
-- TROUPE

Sol Children Theatre REVIEW

Saturday, April 25, 2009
Young Artists Concert Series
Sol Children Theatre has done it again! The six young vocalists entertained last night's audience with music from contemporary to show tunes. Patrons were served up a mix of solos, trios, and sextets. First-time visitors to the theatre were heard to say "Splendid" and "That was awesome" while Sol veterans agreed "That was the best one yet". Producer/Director Rosalie Grant raised the bar for her performers and the cast of teenagers had no problem meeting the challenge. The evening ended with the audince showing their appreciation with a standing ovation.
If you've not yet been to this little slice of heaven on Federal Highway, you're really missing out on something special. Sol Children Theatre, Boca Raton's only not-for-profit children's theatre, produces plays and concerts that are terrific, family-friendly events. Thank you, Ronald B. in Boca Raton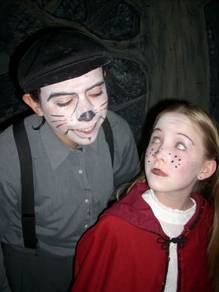 'Little Red' meets 'The Wolf'!
Anthony Galarza as the Wolf
Isabel Getz as Little Red
contact: Rosalie Grant | Artistic Director
address: 3333 N. Federal Highway
address:
city: Boca Raton state: FL zip: 33431
phone: 561-447-8829email: SolChildTroupe@aol.com
url: SolChildren.org