Andy Roddick Foundation


Andy Roddick to receive
Arthur Ashe Prestigious Leadership Award
On April 26, Andy Roddick, #1 ranked American tennis player, and the Andy Roddick Foundation will receive the Arthur Ashe Prestigious Leadership Award from the Arthur Ashe Institute for Urban Health, for their dedication to improving the lives of children in need, at the 13th Annual Sports Ball at Chelsea Piers Sports and Entertainment Complex.
Roddick, the first male tennis player to receive this award, will be in the company of this year's other honoree Dr. Monica Sweeney, who heads up the Presidential Advisory Council on HIV/AIDS. Previous honorees include Hank Aaron, George Foreman, Tom Brokaw and Dr. Maya Angelou.
The Andy Roddick Foundation was founded in 2001 by Andy and his mother Blanche Roddick with a goal of improving the quality of life and enhancing educational and economic opportunities for all children based on the principles of respect for family, education and morality. With the mission of "Helping Children Today for Tomorrow" the Andy Roddick Foundation has been able to raise more than $5 million for children in need.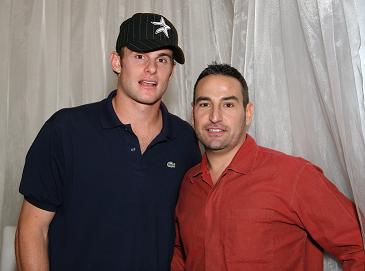 Andy Roddick and Russell Spadaccini
contact:
address: 5458 Town Center Rd.
address: Suite 13
city: Boca Raton state: FL zip: 33486
email: FanEmail@AndyRoddick.com
url: www.AndyRoddick.com