Unicorn Children's Foundation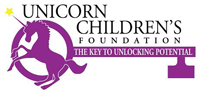 Unicorn Children's Foundation
3350 Northwest Boca Raton Blvd., Suite A-28
Boca Raton, FL
561.620.9376
Unicorn Children's Foundation
Unicorn Children's Foundation Mission
The Unicorn Children's Foundation is dedicated to supporting education, awareness, and research programs and services that assist children with disorders that result in developmental, communication, and learning challenges through adulthood.
Upcoming Events
This years event will be presented by Pop Art Diva Jules Burt who encourages all Divas & Princesses to "Stay Sassy" by joining her at "An Event That's Good for the Sole". The High Heel Hike will take place on Saturday, October 3, 2009 at in Boca Raton, High Heel Hike will appeal to anyone with a spirit for sass. The High Heel Hike a 1k strut in Boca Raton for Unicorn Children's Foundation and Generation Rescue benefiting Autism. Unicorn Children's Foundation
History
The Unicorn Children's Foundation promotes and supports education, awareness and research initiatives globally on behalf of individuals with developmental, communication and learning challenges including, but not limited to, attention deficit disorder, Asperger, autism, bipolar and dyslexia. Established in 1995, and headquartered in South Florida and Montreal, the work of the Foundation fosters coordination between parents, professionals and policy makers to ensure that those children affected receive the resources necessary to help them reach their full potential through adulthood. For more information, please call (561) 620-9377 or visit Unicorn Children's Foundation.

How You Can Help
Make a Nonprofit Donation Online!
Donate Now!
The mission of the Unicorn Children's Foundation is to affect worldwide change through the coordination of efforts among parents, professionals and policy makers, such that every child with any communication or learning disorder, of any severity, is given the greatest opportunity to reach his or her fullest potential. Become a member! For more information on this organization please visit
Unicorn Children's Foundation

contact:
address: 3350 Northwest
address: Boca Raton Blvd., Suite A-28
city: Boca Raton state: FL zip: 33431
phone: 561.620.9377 fax: 561.620.9376
email: nfo@unicornchildrensfoundation.org
url: UnicornChildrensFoundation.org