We Beat the Banks!
Call Now for a Second Quote on Your Good Faith Estimate - 561.338.7594.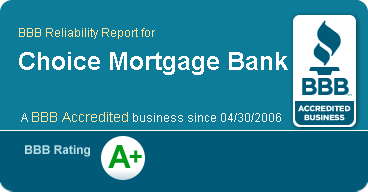 Choice Mortgage Bank is a mortgage lender headquartered in Boca Raton. They have been in business since 1995 and have developed a reputation for offering excellent service and competitive interest rates. The company received the Exemplary A+ rating from the Better Business Bureau, and holds good standing with the Boca Raton Chamber of Commerce.
Contact Us for a Free Consultation | Pre-Qualification:
561.338.7594 Cell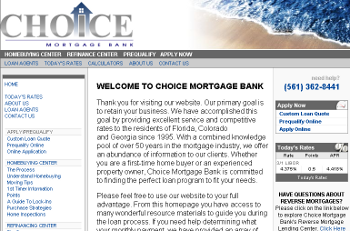 Choice Mortgage Bank
Boca Raton, Florida 33432
561.338.7594
Disclaimer: Rate and term are subject to change daily, without notice.
contact:
address: 40 SE Fifth Street
address:
city: Boca Raton state: FL zip: 33432
phone: 561.338.7594