TransMedia Group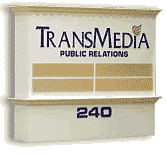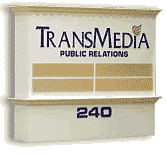 TransMedia Group is an award-winning, bi-lingual public relations firm providing clients worldwide with a broad-spectrum of communications services. Established in 1981, the firm has a publishing division and a talented staff of former journalists who know how to market a story. The firm is based in Boca Raton, Florida.
---
DECOFINISH

Dress Up Your Home with Luxurious Italian Style

You don't have to do an extreme makeover to add some classical design to your home. Decorating walls with a variety of high-end paints, plasters, and stuccos can dramatically change and enhance the appeal of any room.

DecoFinish, is the exclusive carrier of OIKOS in the U.S., the Italian manufacturer of one of the top-rated water-based, eco-friendly decorative plaster and paint wall products in the world. Based in N. Miami Beach with a beautiful showroom highlighting OIKOS products, DecoFinish serves both the residential and commercial real estate community nationwide. DecoFinish has designed and enhanced the walls at some of the country's famous destinations including:

• Lobby at Tiffany of Bal Harbour
• Lobby at The Hamptons of Aventura
• Lobby of Capri Miami Beach Condo Hotel
• Lobby at The Landmark- Palm Beach
• Aqualina Spa at the Rosewood Resort

OIKOS brings beauty, originality and authentic "Made in Italy" style. Among their most popular styles you can find Silk and Velvet finishing, Marble and Stone finish, Venetian Stucco, Pearl finish, and antique effects, to name a few. Their "Raffaello" Venetian Stucco is considered one of the best of its kind in price and quality among the applicators.

OIKOS represents a wide range of high quality products offering a variety of possibilities of treatment, decoration and protection for internal and external use. They blend the most traditional applications with the most advanced requirements of design and modern architecture:

• OIKOS is one of the most respected and popular brands in Europe with over 20 years in the market.
• OIKOS is the exclusive authorized supplier of plaster coverings in Venice, Italy.
• OIKOS offers one of the most vast color range and finishing techniques available on the market for interiors and exteriors walls.
• OIKOS maintains a common objective which is environmental compatibility as well as the absence of toxins in all its products.

DecoFinish offers samples ready in 24 hours and has a team of experts in the products ready to answer your questions. The store also offers free estimates and has a full service staff for the application of the products.

Elias Benalloun, Founder and President DecoFinish, opened the business in Miami after relocating from Venezuela in 2002. To date, DecoFinish has refurbished more than 500,000 square feet of wall space. The store has a showroom in North Miami Beach and authorized dealers in Chicago, Virginia, Washington, Seattle and Atlanta.
---
BocaRaton.com in June 20, 2007 Boca Raton Forum
FOR IMMEDIATE RELEASE
Contact: Gabriela Nunez
(561) 750-9800 x 221
Gabriela@TransMediaGroup.com
BOCARATON.COM RETAINS TRANSMEDIA TO
PUBLICIZE REDESIGNED COMMUNITY
PORTAL WITH FIRST FASHION SHOW
ON FORT LAUDERDALE BEACH, SATURDAY, JUNE 30TH
BocaRaton.com Unveils Slogan:
WHERE YOUR COMMUNITY IS OUR COMMUNITY
Boca Raton, FL – May 24, 2007 – BocaRaton.com, a leading Internet Community Portal, has retained TransMedia Group to promote its new Portal Concept and Online "Boutique" Store which features product demos in FULL VIDEO FORMAT. TransMedia will also publicize BocaRaton.com's plans to offer its unique portal approach to communities throughout Florida.
BocaRaton.com's Online Store kicks off with the first Fashion Show to be held on Fort Lauderdale Beach at 3 PM, Saturday, June 30 (corner of Las Olas Boulevard and A1A), featuring models promoting clothing and accessories for various boutique designers. In addition, BocaRaton.com will feature and launch the first men's shirts with the exclusive Watchcuff™ design.
"BocaRaton.com is an ingenious and fully interactive website offering consumers information and services throughout South Florida and eventually will be adding more Florida cities to its network of Community Portals", said TransMedia Chairman, Tom Madden. "Their team led by Russell Spadaccini, who formerly managed IT operations at Merrill Lynch, Pierce, Fenner and Smith in New York City, is committed to making a difference in Community Portals, bringing all communities together."
TransMedia will assist BocaRaton.com in underscoring its unique community portal concept and innovative Online Boutique shopping. TransMedia will publicize the event, which is the first Fashion Show ever held on the beach in Fort Lauderdale with more than five designers participating. The fashion show will feature BocaRaton.com's own clothing line 'The Sunshine Collective' and the world premiere of the Watchcuff™, all of which will be available exclusively on BocaRaton.com and their Community Portals.
"We were impressed with TransMedia's unique team approach to serving its clients worldwide," said Spadaccini, Director of Business Development at BocaRaton.com. "The firm's flare for creating excitement for events and their past successes in creating an industry buzz for Internet products convinced us to go with them."
According to Madden, BocaRaton.com supports the community by offering local businesses a conduit to the global market. The company owns more than 400 different domain names, for which it plans to create Community Portals all interconnected, similar in style, yet with different product and service offerings, he said.
TransMedia Group is a full-service PR firm serving clients worldwide since 1981. Based in Boca Raton, the firm has offices in New York and London.
---
FOR IMMEDIATE RELEASE

Contact: Gabriela Nunez
(561) 750-9800 x 221
Gabriela@TransMediaGroup.com

BocaRaton.com goes 'Global Media' with the Launch of
BocaRaton.com's Online Store

Outing the Watch! Watchcuff(TM) Retains TransMedia to Publicize First Major Design Innovation in Men's Shirts in Centuries

BOCA RATON, Fla. - June 11 /PRNewswire/ -- TransMedia Group has been retained to introduce one of the most exciting design innovations in men's shirts in centuries, called the Watchcuff(TM).

"For the first time, Watchcuff will "out the watch;" liberate it from being hidden for decades beneath the cuff, thus eliminating the need to roll up ones sleeve to see what time it is," said TransMedia's founder and CEO Thomas J. Madden.

Moreover, Watchcuff makes it possible for everyone to see what kind of watch you're wearing, he said. "Why wouldn't owners of a beautiful wristwatch want people to see it?

"So we plan to hold a giant "coming out party" for that poor, neglected little treasure we keep buried in our shirts unsung, unseen wristwatch," Madden said. "So Watch Out for what's coming soon!"

TransMedia will kickoff a national publicity campaign by introducing Watchcuff at the first fashion show to be held on the beach in Fort Lauderdale, FL. The event on June 30 will feature Miami Dolphin Cheerleaders modeling men's shirts sporting the new Watchcuff. TransMedia also is charged with finding watch companies willing to partner with Watchcuff and licensing Watchcuff to leading shirt manufacturers.

"The Fashion Shows in which we'll be showing off Watchcuff will be great opportunities for allied marketing, promotion and publicity," Madden said.

Men's shirts with Watchcuff initially will be offered for sale exclusively on BocaRaton.com and eventually on other community portals on the Internet.

For more information about Watchcuff and the events TransMedia Group is planning to introduce and sell it, contact Gabriela Nunez at 561-750-9800 x 221

About TransMedia Group

TransMedia Group is a full-service public relations firm serving clients worldwide since 1981. Based in Boca Raton, FL, the firm has offices in New York and London.

SOURCE TransMedia Group

contact:
address: 240 W. Palmetto Park Road
address: Suite #300
city: Boca Raton state: FL zip: 33432
phone: 561.750.9800 fax: 561.750.4660
email: PR@TransMediaGroup.com
url: www.TransMediaGroup.com