Rock Away PR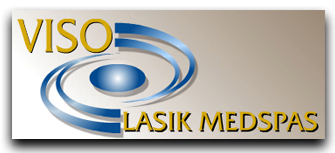 MEDIA ALERT *** MEDIA ALERT *** MEDIA ALERT
VISO LASIK MEDSPAS' ENHANCEMENTS COMBINE
DUAL LASER TECHNOLOGY WITH MEDSPA LUXURY
Wellington LASIK Center
Now Offers MedSpa Services Where
"It's all About the Face"
---
WHAT:
VISO LASIK MEDSPAS is proud to unveil their newly revitalized treatment center with their Grand Re-Opening on February 12th, 2008. Formally known as the Palm Beach Laser Eye Institute, VISO LASIK MEDSPAS is a place where patients can receive state-of-the-art, blade-free laser eye surgery, as well as a variety of MedSpa services – now all in one centralized location.
The evening's festivities will kick-off with a champagne and hors d'oeuvres cocktail reception, followed by a series of door-prize raffles including a Full Skin Care System; a Facial & SilkPeel Package and a 50-Minute Massage. Specialists will be demonstrating firsthand the Photo Facial, a procedure that stimulates collagen growth by delivering light energy through the skin's surface (7:00 p.m.); the SilkPeel, a technique of precision exfoliation and dermal infusion that reveals skin's "true" beauty (7:20 p.m.); Laser Hair Removal, a non-invasive treatment that safely removes unwanted hair without damaging the skin (7:45 p.m.); and LASIK Vision Correction, the procedure that safely and painlessly eliminates dependency on glasses or contact lenses in less than twenty minutes (8:00 p.m.).
VISO LASIK MEDSPAS offers progressive medical attention with superior customer service. The new renovations are replete with a relaxation room, a concierge service and added incentives including pre-LASIK massages and three different financing options. VISO LASIK MEDSPAS is the only LASIK center that offers LASIK 4 Life, the ultimate LASIK guarantee.
---
WHEN:
Tuesday, February 12, 2008
6:30 p.m. to 8:30 p.m.
---
WHERE:
VISO LASIK MEDSPAS
2515 State Road 7, Suite 210
Wellington, FL 33414
Tel: 561.795.4772 / Toll Free: 866.798.4772
www.visolasikmedspas.com

---
MEDIA CONTACT:
Rock-away PR
Alexis Knapp / Tess Lozano
Alexis@RockAwayPR.com / Tess@RockAwayPR.com
O: 305.868.1457 / F: 866.820.8691

contact: Tess Lozano
address: 320 80th Street, 8B
address:
city: Miami Beach state: FL zip: 33141
phone: 305.868.1457email: Tess@RockAwayPR.com
url: RockAwayPR.com