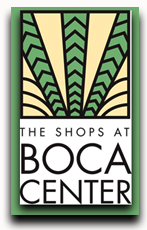 5050 Town Center Cir.
Boca Raton, FL 33486
Welcome to the Shops At Boca Center. This gorgeous retail and dining center is typical for Boca Raton. Complete with fine-dining restaurants, peaceful walkways, and Lamborghinis zooming through the parking lot.
Click the 'More Information' link from one of the Business Listings below to see more details. If the Business Logo has a Video Camera Icon next to it, then there is a Business Commercial inside that listing.