Video Sponsored by:



Legal Fight Over How To Fund A New $525 Million Florida Marlins Stadium
By Paul Brinkmann

The Details: Plaintiff and attorneys
• Plaintiff: Norman Braman, owner of Braman Motors
• Attorney Bob Martinez of Colson Hicks Eidson's Miami office


• Attorney Frank Schnidman, senior fellow at Florida Atlantic University's Center for Urban and Environmental Solutions

Defendants and attorneys
• Defendants: Miami-Dade County, City of Miami, Florida Marlins
• City attorney: Julie Bru
• County attorney: R. A. Cuevas Jr.
• Marlins attorney: Sanford Bohrer of Holland & Knight in Miami

An upcoming court fight over funding a $525 million Florida Marlins stadium will highlight state and national controversies over the use of redevelopment funds for economic development projects.

Car dealership owner Norman Braman's lawsuit against Miami-Dade County, the city of Miami and the Marlins goes to trial on July 1. Judge Pedro Echarte in Miami-Dade Circuit Court will hear the case.

The lawsuit challenges the city and county's legal authority to engage in a complex financial agreement with the team to fund the stadium. The Baseball Stadium Agreement would use tax-increment financing (TIF) money from two redevelopment districts to pay off bonds at the Adrienne Arsht Center for the Performing Arts. In turn, tourist taxes formerly used to pay off the arts center bonds would be directed to the stadium project.

The Braman lawsuit is aimed mostly at that plan, which he calls a "shell game" designed to prevent a vote on huge public spending. Public officials have denied that intent and say the plan is an economic catalyst authorized by state law.

The lawsuit echoes a well-known dispute in northern Florida that rocked local governments last fall – Strand vs. Escambia County. Both cases touch on the uses of TIF and when voter approval is required. TIF refers to using property tax revenue from growing valuations in a blighted area to pay off bonds for improvements.

In the past, governments have voted to approve TIF districts without voter approval, Dr. Gregory Strand sued his home county to block TIF for a local road construction project partly because he didn't get to vote on it.

The Florida Supreme Court in September ruled in favor of Strand, but issued a statement that it was not retroactive to existing TIF projects. Then, the high court took up a motion for reconsideration, which it could rule on any day.

The Marlins case could be similar because the county and city are tapping TIF monies from the Omni and Overtown community redevelopment agencies to pay off bonds at the arts center. Braman, who used to own the Philadelphia Eagles football team, has a dealership near the arts center at 2020 N. Biscayne Blvd. It sells Cadillacs, Rolls-Royces, Minis, Bentleys and BMWs.

Frank Schnidman, an attorney retained to advise Braman, said a ruling in Strand vs. Escambia County would at least be referenced in the stadium lawsuit in Miami. "If the court affirms its initial decision on Escambia, they would have to go to referendum to commit TIF for more than one year. It's a constitutional question then," Schnidman said.

South Florida Credit Scores Trail Nation
By Brian Bandell

The wave of foreclosures sweeping across South Florida is taking more than consumers' homes. It's battering their credit scores so low that they could takes years to mend.

Even if the real estate market recovers in a few years, a major incident can stay on a credit report for up to seven years. With the subprime lending industry all but wiped out, it will be increasingly difficult for those with poor credit to secure loans. That means their purchasing power will be diminished for items such as homes, cars, furniture and everyday purchases made with credit cards.

Many who believe their house is worth less than their mortgage are getting bad advice telling them to walk away from the house, but that's the quickest way to destroy credit, said Carlos Fernandez-Guzman, senior executive VP of neighborhood banking at BankUnited in Coral Gables. He urged borrowers to work with their banks to avoid foreclosures and keep their homes.

Yet, more and more people simply can't afford it. "We're going into a tightening cycle for credit, not just because of financial institutions, but the natural Deterioration of borrowers because of credit scores," Fernandez-Guzman said. "That elongates the cycle."

The eroding of credit scores in South Florida hasn't been huge, but it's happening about 10 times faster here than in the rest of the country, according to data complied by TransUnion, a Chicago-based credit monitoring company. The national average credit score fell just 0.09 percent in the two-year period ended in the first quarter, but average credit scores slipped 1.14 percent in Miami-Dade County, 0.89 percent in Broward County and 0.79 percent in Palm Beach County.

Meanwhile, TransUnion found the rate of 60-day mortgage delinquencies in South Florida has skyrocketed in that two-year period, and easily surpassed the national average of 3.23 percent in the first quarter. The delinquency rates in Miami-Dade, Broward and Palm Beach counties were 7.6 percent, 6.69 percent and 5.3 percent, respectively. Two years ago, each of those counties measured well below 2 percent. A housing payment is among the most significant indicators on a credit report because most people give their mortgage a higher priority than other bills when they have a tight budget, said Fred Livingston, president of the South Florida region for Toronto-based RBC Centura Bank.

Having a bad credit score makes getting new loans much harder and, if they can get a loan, they'll be saddled with higher interest rates, lower credit limits and requirements to put more money down, Livingston said.

Commercial Real Estate Sales Tumble
By Darcie Lunsford

The capital crunch and sluggish economy have taken a bite out of investors' appetite for South Florida's once-hearty commercial investing market.

Sales volumes across all sectors of commercial real estate tumbled 69.2 percent in the first quarter, according to Real Capital Analytics, a New York-based researcher. Deals for apartments, warehouses, offices and retail centers fell to $796.5 million in the first quarter, from $2.6 billion during the same period last year.

The local pinch is representative of what is happening globally, experts say. Lead by unrest in the capital markets in the U.S. and Europe, deal volumes fell 46 percent worldwide in the first quarter, according to Real Capital data shows. "The primary cause of the dry-up is the credit crunch. Almost one year in, it has really affected sales volumes globally," said Pete Culliney, director of global research at Real Capital Analytics. "Without the easy supply of debt, and debt at record-high loan-to-values, buyers are not quick to agree to a price."

Problems in meat-and-potato domestic and European markets are now dinging deal flow in emerging markets such as Asia, which could further worsen the global situation by mid-year. "We are not in the forecasting business but it seems like the slowness will continue for a bit longer," Culliney said.

Much of South Florida's deal-closing challenges rest in a value disconnect between buyers and sellers, real estate experts say. Sellers remain largely entrenched in pricing properties off inflated prices and perceived income values achieved during the three-year commercial buying frenzy that came to a screeching halt in May 2007. That's when fallout from the subprime mortgage meltdown began bleeding into commercial financing markets.

Buyers ready to step up with cash or able to meet today's tougher lending terms are looking for discounts reflecting higher costs for borrowing, rising capitalization rates for income streams and the increased risk of operating in a economic downturn. "I think those that have the money are ready to buy, but they are waiting for bigger price cuts," said Brett Forman of Delray Beach-based Forman Capital, which raises capital from a New York hedge fund and internally. Forman said his firm is looking to invest $200 million during the next six months, but is having trouble finding a deal with pricing that makes sense.

Debt terms are another deal-making hurdle, experts say. "It is a shift in the capital markets," said Christian Lee, vice chairman of CB Richard Ellis' Institutional Group. "The real estate markets are performing fine." Lee said debt costs have swung dramatically in the past 12 months, throwing off deal economics for many buyers.

A year ago, buyers could borrow 80 percent of an asset's value as an interest-only loan at an average rate of 110 points over the 10-year U.S. Treasury bond. Today, that same deal would require 35 percent equity at an interest rate of 275 points over the Treasury bond, and would not have any interest-only period, he said. Commercial mortgage-backed securities (CMBS), formerly the Energizer bunny of Wall Street financing, also have been largely sidelined due to volatility and investor distrust.

Conduit loans are bundled as pools of diverse mortgages and sold as CMBS bonds in tranches of risk. CMBS, which infused $230 billion of capital into the commercial markets last year, are expected to bankroll less $50 billion in deals this year and next, according to a survey of CMBS underwriters and experts by Coral Gables-based Pyramid Realty Group, a financial underwriting and advisory firm.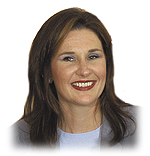 Darcie Lunsford's Hair provided by:
Wild Hare Salon and Spa | 2120 St. Andrews | Boca Raton

SFBJ - ARCHIVES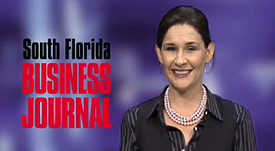 South Florida Business Journal
Darcie Lunsford Archives