Before the 1947 hurricane season, the area that is now Coral Springs was a marshy swampland. In response to the floods that resulted from the hurricanes, the Central and Southern Florida Flood Control District, a predecessor to the South Florida Water Management District, created a series of canals and levees which drained the swamps. Henry Lyons, the owner of the former swampland, was then able to use the area as a bean farm.
Coral Ridge Properties bought 9,869 acres of the property from the Lyons family after World War II in an attempt to take advantage of the real estate boom of that era. The name Coral Springs was chosen by the company, which would become a dedicated planning body for the city. The company constructed and sold 536 buildings, and the famous covered bridge, which they used to promote the city.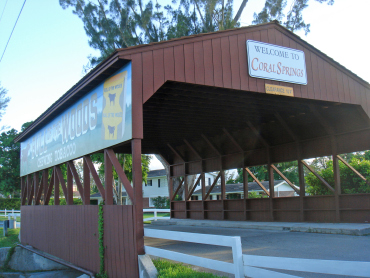 The population of the city quickly rose, and in 2003, the number of residential buildings within the city reached the number originally planned the Coral Ridge Properties Company. Strict limitations were placed on building height, landscaping, and signage, resulting in high real estate values. Currently, the downtown area of Coral Springs is being redeveloped, and will soon be host to new office and retail space, as well as a new government center.